I run a wide array of websites and am constantly on the look for new niches to start as I never know what will be the springboard for the next 3-5 years of my blogging life.
I love to incubate sites and allow them to grow organically through 30-50 posts in almost all cases, with exception this is where I leave starter sites to see how Google and other Search Engines react.
If there is anything the pandemic has shown me is that focusing on any one niche to become an authority can implode in your face, for example see the cruise industry and travel industry and associated niche sites.
By taking the time to build up an inventory of sites you diversify your income across a wide range of sites and when things like the December Core Update occur you have less chance of being hammered across the board.
December 2020 At a Glance
This month brought the December Core Update on the 3rd and 2 of my sites appear to have been hit and at least one hit a springboard and has grown by 100% for the month.
My diet site, while well researched and linked took a solid 50% blow prior to the new year coming but I am still waiting and building on the next update to maybe correct this.
My fitness site also appeared to take a hit though it is super fresh and less than 8 months old with most content only 3-4 months aged in so it could just be more a tailing off for the December month.
Both my outdoor sites have exploded though in this December update so this shows me that still the best way to approach building websites is to focus on hobbies and similar niches.
Why Do I Do Income Reports?
I started doing them this month and ongoing to help show that websites can be a solid income over time but that it isn't a get rich quick scheme.
Should you choose that you want to make websites for a living to earn income you need to be realistic that the work you do now will have a CHANCE to pay off in a year or more.
That being said there is not another way to build an income that allows you the freedom with time that a blogger can achieve, this is my why and it is the reason I work continually to improve my skills and my niche sites.
If you are an absolute beginner I would suggest joining the Income School Project 24, it can help you when you have no clue to get solid footing for a really good cost.
If you aren't sold on them then you can look at good detailed affiliate marketing class and many others which are available from MoneyLab.co.
Content Generation Breakdown
December was a slower month for me on the content front as I was focused more on home life and enjoying the holidays, most the content generation was focused on building my new gardening related site out and fleshing out other sites.
Site 1 - Fitness - 15 posts
Site 2 - Diet - 0 posts
Site 3 - Gardening 1 - 0 posts
Site 4 - Gardening 2 - 15 posts
Site 5 - Outdoor 1 - 4 posts
Site 6 - Outdoor 2 - 0 posts
Site 7 - Electronics 1 - 2 posts
Site 8 - Electronics 2 - 0 posts
Site 9 - Public Niche Site - Footbagger.com - 0 posts
Site 10 - Backyard - 0 posts
Site 11 - White Hat Blogging (This Site) - 15 posts
As you can see my posts were very wild in December with me doubling down on the fitness site for, what I hope, to be a large 2021 explosion. Fitness is a super challenging niche which is why it is balanced with other sites.
After this month fitness will become a post a week to maintain growth as it will be pushing to the 200 post mark that was my initial goal for the first year.
Monthly Income Breakdown
| Income Source | Income Amount |
| --- | --- |
| Ads | 251.25 |
| Affiliate | 351.12 |
| | |
Monthly Expense Breakdown
Many of these are purchased for yearly licenses but I tried my best to break the costs down into monthly chunks to help make more sense of a overall monthly expenditure.
As you can see the overall monthly costs are more than I am actively making but thats the cost of building a business, investing time and money to build something that will pay off in the end.
My Project Updates
Well now I can show you how each of the sites dealt with the December 3rd Core Update and I had some winners and some losers like many other people.
This has further increased my belief in the need to have multiple sites and not a single large authority site. Covid also showed me that "travel" or similar niches could be decimated without updates.
To me this is a clear sign that the methods I am using, while slower than slamming in one site allows me to look cleaner to Google growing over time and that I am safer from an update by being diverse.
Site 1 - Fitness
I am continuing to build this site out and have been adding between 4-10 posts each month on the journey to at least 200 posts. Once I reach 200 posts it will be time to pause and reflect, watching to see which posts perform best then double down on creating them.
The December Core Update may have hit me but hard to tell as the graph doesn't make December 3rd look all that impactful, though fitness may trend down at that time too due to the time of year.
I won't know that until next year when we hit this time period again, most these posts are still only 4-5 months aged in so it may be just more time that is needed to have them continue to grow.
This site is still making an amazing amount based on the age and if that trend could continue while content gets more views and grows this could be incredibly lucrative.
Site 2 - Diet
This site started due to a Facebook challenge and I had no plans after the initial 90 days from January to March. I won the challenge and then backburnered the site.
This was a poor move though as it gained to be near 5k sessions before it took a hit in November and then another hard hit on December 3rd along with being in the end of the year with less thoughts on dieting.
We will see where we are but I am working to write a post very other week to get this site growing as it has a Facebook group building and becoming its own environment and support for dieters which can help grow the site and offer affiliate options.
Site 3 - Gardening 1
For the life of me this site has very low competition from my observations but I have yet to gain any real foothold with my posts, rather than give up I am continuing to build this out and have hopes it will grow with more time to age.
This site has some links to Etsy products and Amazon, it has made a few dollars overall but definitely is still not paying for itself monthly which is where I would hope to get to soon.
Site 4 - Gardening 2
This site started only 2 months ago and will need far more time to wait for ranking and aging of content to help springboard into views, this site is officially what is known as "in ghost town".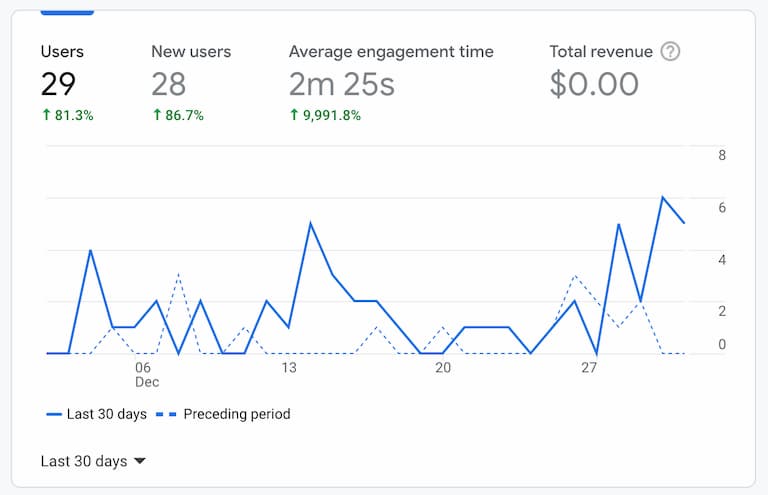 This site is not running any ads even though I could add it to Ezoic, I want to use only the ShareASale and Amazon links for now to let it grow.
Once I hit 10,000 pageviews I will move it onto Ezoic and watching the EPMV growth over the next couple of years as content continues to be added.
Site 5 - Outdoor 1
This site has been growing very slow and I think I just had bad timing building within Covid. The December update was very kind to me here helping grow my site by over 100% growth MoM.
This site is the most blended of my sites for income as it has multiple affiliate programs which enables better balanced monetization, I have just started building a YouTube channel to launch this next year to help more.
Site 6 - Outdoor 2
This site is one that could easily be 1000+ posts it is a long term project to grow out within multiple sub niches and the end goal being a site that pulls in 100-500k visits per month.
If this can be reached then the site would more than likely be sold to get the capital needed to build out more income generating sites while paying off any incurred debt over time.
Site 7 - Electronics 1
This was actually my second site I ever created but I wasn't aware of what a "micro" niche was at the time, now I know what I built was a micro niche site and the growth is fairly limited by the subject matter.
The reason I keep it is that it is reliable for around $60-$100 each month and is incredibly reliable, I do updates to any new products as reviews and cover topics as they become viable.
I actually like sites that are micro sized as they are easy to canvas but they are limited in what they can ever provide and I would rather have one $3k website than 3 $1k websites to manage long term.
Site 8 - Electronics 2
I am so lazy with this one that I never even installed GA4 onto it, this one can get some good value but it is product oriented and in a tough place when competition is high and effort on my side is low.
This may be a site that is sold to someone who will give it ti TLC is deserves and start to build out the information it needs to become a strong powerful site, not the lame duck I allow it to be.
Site 9 - Public Niche Site - Footbagger.com
This site is just for helping show people what can be accomplished online on my YouTube site: Pro Blogger Income. The goal is that I write everything and the delays of real life may slow down progress but it continues to move.
Many people seem to think it is impossible to do with a job, this site is meant to show anyone can do this and there is no excuse other than laziness.
I am hoping to continue to grow this by at least 2-3 posts per month through the next year and end the year around 50 posts. After this I may try to find a Facebook group where I could find someone in the niche to actively write.
Site 10 - Backyard
This site was more because of my new house and learning about the backyard and how to properly take care of it. This is more a labor of need than specifically one of a niche to make money, in fact this has not made a single sale on Amazon.
This site is running Ezoic ads only and in the summer hit a peak of almost 2k visitors, definitely this content has little value in the winter so I may need to find content which would work equally well or offset losses for the winter times.
Site 11 - White Hat Blogging
This site itself, it is aimed at people looking to begin blogging but with a focus of not needing to get grey or black hat through building links and similar processes.
I will also be listing sites from my collection to sell on the front page once I know they are viable and if I won't have the time to manage them myself.
I am also working on services to provide to help people build successful niche sites and these services will include parts people traditionally find difficult.
Lessons Learned
The core algorithm has cemented in me the need to build multiple sites as I said above, to me this is in alignment with the course I had chosen before for building my stash.
Definitely building a single authority site, while allowing for better overall core authority, impacts you in the case of an algo hit as you could go from 100k to 5k overnight and drastically lose your income.
Did I Meet my Goals for December?
I have been poor at making real, tangible goals for my journey. but I think I will begin trying to outline goals and build some ways to ensure I am starting to meet them as they can help drive success.
My only goal was to surpass the $500 a month as I have been close a couple times but never eclipsed it, in this case I did by over $100 and this is with sites that are all still relative babies.
What Are my Goals for January?
My current goals are not monetarily driven, though I would hope to make more than $600 this doesn't worry me as that will come with time.
My primary goal will be adding content and building my outdoor sites to 10k a month sessions as this should be doable as content ranks, so I need to focus still on content generation.
Additionally I will be starting 3 YouTube channels and the starting goal will be at least 1 short and 1 video each week through this year which would give me 3 channels with 52 shorts and 52 videos and hopefully 1000 subs each!