White Hat Blogging is a participant in the Amazon Services LLC Associates Program, in addition, I am an independent Jasper Affiliate, not an employee. I receive referral payments from Jasper and possibly other affiliates.
July was always going to be interesting, while normally you would begin to get some recovery from the algo updates done in the previous month, July was still planned to have its own algo update which muddies up any recovery.
So this month was more about building up content as I planned before the month, my goal is to push all my sites to at least 100 posts before the end of the year to give a barometer to long term niche viability.
Google Updates For Those Who Wonder:
July Algo Update
Continuation on Page Speed Update (CWV) through August
July Spam Link Update
Since none of us can control Google, I continued to grind away instead, though this does lead me to think more and more about building real email lists for my sites so that I can pull back in traffic without Google being required..
Welcome to my July!
July 2021 At a Glance
July was a focus on building the solid P24 Case Study for the YouTube channel and the push was to keep it on track following their timeline to a T.
After that most of my focus has been specifically aligned to building all the smaller content sites, anything below 100 posts, up to at least that base level of 100 posts.
July had the algo update and I wasn't worried about trying to "fix" ranking drops which I am pretty sure hit white hat websites the most due to a lack of vast links.
This means white hat sites need more time to recover as they rely on Google searchers giving Google good user experiences which help raise us over time past the crappy linkbait sites who tend to get more bounces.
I am happy to see more sites growing and the profile of sites become stronger this bodes well for an overall incredible year, to date I have made nearly 4 times the amount I made last year and am hoping to make it further and move faster!
My focus though is definitely on the sites that are making their investments back and less on sites I "want" to grow, the passion sites for now can sit while I work on the sites that deserve the focus and effort.
Why Create Income Reports?
I can say that I don't necessarily "enjoy" making these as they take a solid chunk of the day to gather and align but they are very nice when I go look back historically and can see where I was along with my thoughts back at that point.
I started doing these income reports to show month on month growth and to provide some motivation to show that websites can be a solid income over time but that it isn't a get rich quick scheme by any means.
Should you choose that you want to make websites for a living to earn income you need to be realistic that the work you do now will have a CHANCE to pay off in a year or more.
That being said there is not another way to build an income that allows you the freedom with time that a blogger can achieve, this is my why and it is the reason I work continually to improve my skills and my niche sites.
If you are an absolute beginner I would suggest joining the Income School Project 24, it can help you when you have no clue to get solid footing for a really good cost.
If you aren't sold on them then you can look at good detailed affiliate marketing class and many others which are available from MoneyLab.co.
Overall Content Generation Breakdown
Building content against a vast array of sites can be intimidating, I write what I can, I work with Jasper when it makes sense, and then I outsource whatever I can afford to help keep the gas pedal pressed down hard.
Fitness – 1 post
Gardening – 0 post (On Ice as just a 30ish post incubator)
Outdoor 1 – 2 posts
Outdoor 2 – Site Sold Off
Outdoor 3 – 18 posts (New P24 Method Case Study and YouTube Series)
Electronics 1 – 12 posts
Backyard – 3 posts
White Hat Blogging (This Site) – 2 posts
Hobby – 0 posts (On Ice as just a 30 post incubator)
Travel – 1 post
Business – 2 posts
Popcorn Site – 9 posts
Total Posts for the month: 50
Monthly Income Breakdown
| Income Source | Income Amount |
| --- | --- |
| Ads (Ezoic) | $489.05 |
| Amazon Affiliate | $213.47 |
| Other Niche Affiliate Programs | $51.79 |
| Blogging Affiliate Programs - BigScoots | $30 |
| Blogging Affiliate Programs - Jasper.ai | $130.53 |
| Blogging Affiliate Programs - Cloudways | $112 |
| Blogging Affiliate Programs - Project 24 | $0 |
| Blogging Affiliate Programs - SurferSEO | $17.70 |
| Blogging Affiliate Programs - Ezoic | $56.63 |
| Blogging Affiliate Programs - Fiverr | $0 |
| Blogging Affiliate Programs - Passion Posts | $88.43 |
| Blogging Affiliate Programs - Amalinks Pro | $98.75 |
Monthly Expense Breakdown
| Expense Source | Monthly Cost |
| --- | --- |
| Hosting - Bluehost | $1.33 - Month |
| Hosting - Cloudways | $26 - Month |
| Hosting - WPX | $25 - Month |
| Amalinks Pro | $14 - Month |
| Link Whisper | $10 - Month |
| Outsourced Content - Fiverr | $250 |
| Ezoic Premium | $110 - Month |
| WP Rocket | $7.50 - Month |
| Canva - Images | $9.99 - Month |
| Dreamstime Images | $25 - Month |
| Project 24 Subscription | $10 - Month |
| Frase.io | $114.99 - Month (Tech AI and Outlining Docs) |
| Jasper.ai (Formerly Conversion.ai) | $99.99 - Month (Boss Mode) |
| LSI Graph | $19.00 - Month |
My Niche Site Updates
Last month and moving forward I changed my focus from what I "wanted" to be successful and instead have been spending my effort and focus on the sites that HAVE been successful and are giving me results.
Hopefully this change in focus will help build more income so that I am able to invest faster and then build up those sites that are the passion builds.
Fitness Niche Site
I continue to work on my personal health and fitness as I am aging faster and faster, yeah it may not really be faster but it feels like it is moving faster!
I still am working on getting this to 200 posts, but this will probably be closer to the end of the year and into next as I just have had such slow growth on this site for the effort put in that I have to scale it back and work on other projects more.
I have seen some growth coming out of this update cycle so I will continue to monitor and if it should show some nice possible growth vectors, like more top 3 or 10 keywords then I may make another push to 200.
Monthly Traffic
Considering there hasn't been a concerted effort to move this forward, the movement of 12% growth is down to coming out of the Google algo updates positively. I am looking forward to seeing more growth as I am currently just aiming to add one or two posts per month to maintain "livelihood" on the site.
SERP Rankings
The site has had some favorable growth out of this June and July update spree by Google, I am still not adding any more content until I start to see some return on the already added content but it is starting to maybe show some heartbeats!!
Search Console
There is definitely and upswing in the overall search console data which is a pleasant site as for the longest time it has basically been a flat line. The CTR is a pain point as I am ranking for lots of keywords which I think drag down the overall CTR rate, maybe time to evaluate posts performance with Ezoic Tag Tester to test out alternate headlines is a smart move.
Plan For Next Month
Sit it for now and keep watch to see when the fitness site gets some real traction with Google as it looks like it takes longer than 12 months for real traction when you don't have paid for links.
Garden 1 Niche Site
This site has been a conundrum, by all search it should have far more volume than the current posts show, but it does make a consistent $30-40 per month so it isn't a bust, this site will get a push to 50 posts by the end of the year to see if age can help spark growth.
Monthly Traffic
Considering I haven't added any content to this in 6+ months I am happy that it has held, I am going to change my plans and look to add some more content to get to 50 posts as it may be that the crappy iWriter content it was built with is of very much more poor value.
SERP Rankings
This site has always been weird, when you look at the competition there doesn't seem to be anything that should make ranking and traffic hard to come by but even for top 3 results there is far less traffic than I expected.
In honesty though much of this content came in my first days from iWriter and they weren't anything to write home about, the next moves may be to take the content in and clean up with Jasper.
Then I can look to add some more content and see if a different sub-section of the niche could provide more pop.
Search Console
Again another month with days where there was 0 clicks, this needs to grow more to take care of these 0 click days as those just keep this site dragging.
Plan For Next Month
I have a sub-niche idea that could use another 12 or so posts and get this closer to 50 posts and then see if that gets any love, the plan though for this month will be to go through all the iWriter content and to revise and clean it up hoping to get a jump start in Google with submitting newer versions to Google.
Garden 2 Niche Site
Personally I wrote a blog post about this niche and tried to get people to jump in as it looked very open to ranking and that there were multiple sites with AdThrive showing me that there had to be solid volume.
Instead after months of cajoling I decided to instead add it to my list of sites since Garden 1 was doing so poorly, I am beyond happy with the results so far as it has limited content at under 40 posts!
Monthly Traffic
This growth is outstanding as that is nearly 30% growth while moving through this update spree by Google, this shows me that this is definitely worth my focus on the race to 100 posts! The time on page is solid at 4 1/2 minutes and bounce rate hasn't gone up or down which is an awesome feeling.
SERP Rankings
I have been letting this sit while finding the next set of keywords to get this up to 50 posts, the growth continues which is an awesome sign as well as every post 37/37 is in the top 100.
This niche could definitely be a year-round niche which makes it very important to double down on and get the content growing as it can be a stable source of income year round!
Search Console
Just continuing to grow, this site hasn't got as many posts as it deserves but now I am re-dedicating myself to the content and sites that are performing so this site should have a large push soon to move towards that 100 posts mark as soon as I can.
Plan For Next Month
To push out 8 posts on the site for an average of 2 per week, this will help put me on track to be very close to 100 posts before the end of the year.
Outdoor 1 Niche Site
I enjoy being outdoors, especially in the world that we have just dealt with for the last 1 1/2 years. Getting away from the industrial revolution and finding some quiet is amazing to help your nerves relax and to find yourself and get some introspection time.
Monthly Traffic
I have consistently been putting in time writing and I don't find it a chore to write for but like the fitness site this site is moving into more of a 1-2 posts per month as the amount of content to return is right at about a $29 EPMP and while passable this isn't as high as I need for a core site.
Not that it can't grow into it but outdoors is a battle with sites like REI, it isn't won without links or aging in on the domain and other vectors that help move you to the first page more consistently. As you'll read below it looks like we may be on the edge of this as the algo helped boost my site up it is just needing a breather.
SERP Rankings
I have been pleasantly surprised with the Google Algorithm updates as they definitely took traffic down in the short term but the recovery efforts have continued to lead me forward with near all my posts reaching to top 100.
I would be happy to always gain 7 posts in the top 3 each month as this would give amazing results over time!
Search Console
Staying about flat on the console for the month, there has been some heartbeats where it looked like it may finally burst out of the artificial ceiling it has been stuck in but not this month unfortunately.
Plan For Next Month
This is currently in a bake phase, I will add 1-2 more posts per month but really let this idle for a bit and age in more to see if it can help with ranking, next step is to work out posts that are shareable with infographics or something that can pull in visitors and links.
Outdoor 2 Niche Site – SOLD
This site has been sold to allow me to continue to focus in on the sites I am most interested in.
Outdoor 3 Niche Site
This is a brand new site built with only the P24 new course that was launched this month over on Income School's Project 24. This uses their new search methodology and puts it to the test, the hope for me is that it helps find lower competition, yet higher search volume content.
Monthly Traffic
As expected on any niche site that isn't having links poured into it, ranking builds and compounds as you grow and from month two to month three we have a 300% growth from a paltry 6 pageviews to 24 pageviews.
I am not really worried and the push to grow will continue to reach for higher and higher numbers month over month, please don't worry if you are here this is the point when most will start to quit after producing 50 posts and not seeing any traffic, just breathe and keep at it!
SERP Rankings
When you don't pay for links directly to your site you have a decent chunk of time to wait for ranking to occur. If you plan smart and build solid content and build internal links you will see these move faster than 6-8 months (at least this is the hope).
Search Console
As with any new site, month three is starting to show some life within the search console. The next goal in search console for me will be to have less overall zero click days.
Plan For Next Month
I have about 300 posts keywords already found and I continue to dig and add on and evaluate ideas to find things marked as high priority where I feel I should be able to win without backlinks and without any huge advantage other than quality content.
Electronics Niche Site
This site was the one I changed from an exact match domain into a more brandable open ended domain, this allowed me the chance to really open up content generation when I had hit a roadblock on the old site. I added a bunch of content but then wanted to let it rest and see what happened and if it would gain traction.
As you can see a boost in 50% on pageviews has given me some more information as to what posts people are interested in and I can now start writing more content knowing it will perform.
As a side note this site has no ads at this time and is running on Cloudflare APO making the load time incredibly fast.
Monthly Traffic
As you can see the numbers were down all month from the update and I was worried until we started this huge vault up at the end, along with my worry I duplicated the GA code which is why there was a one day loss of data.
I am excited now as that means I have nearly doubled after the recovery form the updates and hopefully have some amazing places it will be going to in the near future!
SERP Rankings
This site has responded fast to the Google algo changes and has been spiking traffic over the last week or so moving from an average of 50-60 daily views past the 120 mark and signs of some strong growth to come as more content comes and ranks!
Search Console
This site came out of the updates exploding from 50-70 clicks a day to nearly 150, this is one of the sites where I am aiming at hitting the 100 posts sooner and not later as the performance shows.
Plan For Next Month
Already have 10 posts outsourced to Passion Posts, with an additional 10 possibly going out later this month this will move this site close to 80 posts by month end and in easy strike distance of the 100 target.
Backyard Niche Site
This site is one I built and then figured I would focus on, I really lost focus on it for nearly a year while paying attention to fitness and outdoor 1 which was a bad move. While this site will be seasonal it has been amazing at bringing in more income per month than all my other sites when compared head to head.
Monthly Traffic
Unfortunately it appear the Google updates and the tailing off into the offseason my have been too much to deal with, this site is going to continue on in the path to 100 and is nearing 60 posts currently.
While I wish this was a year long non-seasonal niche each year I lock in more what the start and end to the season are so that I can focus on building content to be hitting its stride when the season is about to start in.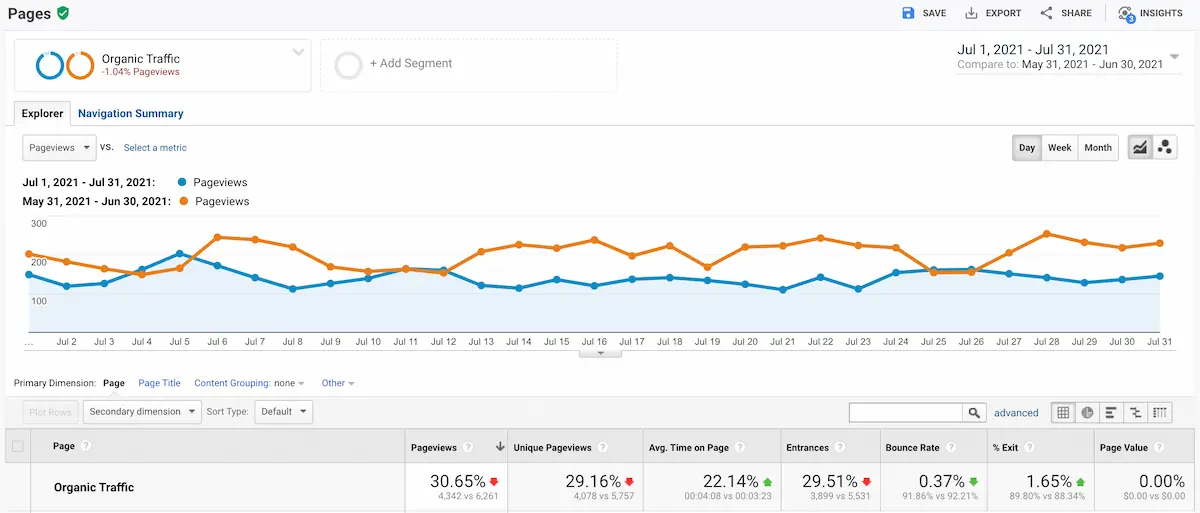 SERP Rankings
Out of my sites this one took the most hit on the update, on July 1st it dropped by nearly 33%, while it hurts the SERP shows that it is gaining strong and taking the places it lost back again.
I am continuing to push content to try for 100 posts before the end of the year, this niche is very seasonal though so it may not show huge gains until next year if it is reaching the end of the big search time.
Search Console
While the site took a hit it has been slowly recovering back but I think some of this is the end of the "backyard" season is starting in as people start to prepare for school and life again outside of vacations and barbecues.
Plan For Next Month
The push to 100 continues with this site, there is still plenty of topics that can yield high traffic volume as the angle I am taking is more unique versus most affiliate sites, only time will tell!
White Hat Blogging Site
I love to write about all these processes, it allows an output for all my random thoughts and I hope at some point it helps out other people start building their own sites and that my insight helps them skip some of the more common starter pitfalls.
I do think that this site will be 5-10 years to really even have a chance to bring in significant traffic on its own but this doesn't bother me, I just have to dig to find something that can be worth something to write.
Monthly Traffic
Not much to write home about, I continue to work on building resources for anyone looking to build their niche sites and nothing will stop me here as it is the same path I am on and sharing is caring! lol.
I feel that open and transparent of sharing of ideas and information is the path forward and try to never gatekeep information behind a paywall like there is some sort of magical path I can only speak about behind closed doors.
SERP Rankings
God I love blogging and the concepts behind being successful but my lord is it super hard to get any traction and traffic to your blog without having a second source like YouTube!
The awesome thing though is that ranks are improving and I am cracking into the Top 10 with another post, I just need to pour more gasoline on the fire…
Search Console
Search console again isn't much to write home about as it is lots of zeros, but some of those clicks towards the end of the month feel quite good.
If I could maintain and build on those 3 clicks I would see a large swing in traffic from the most valuable source you can find, organic is where it is at people!
Plan For Next Month
I am continuing to post on topics i find that I think will be helpful and will rank, this combo is a slow thing without pure link grinding but I am in it for the long haul so I can be patient.
Hobby Niche Site
This site is more of a test as the space is full of blogs but none of them are necessarily outstanding in my opinion, I have some aging to to before I write more this is just going to stew.
Monthly Traffic
Nothing being added but numbers are up is a good sign on a site thats pretty fresh. I'll take the 70+% growth in pageviews but it is slower than other sites I have had at this age.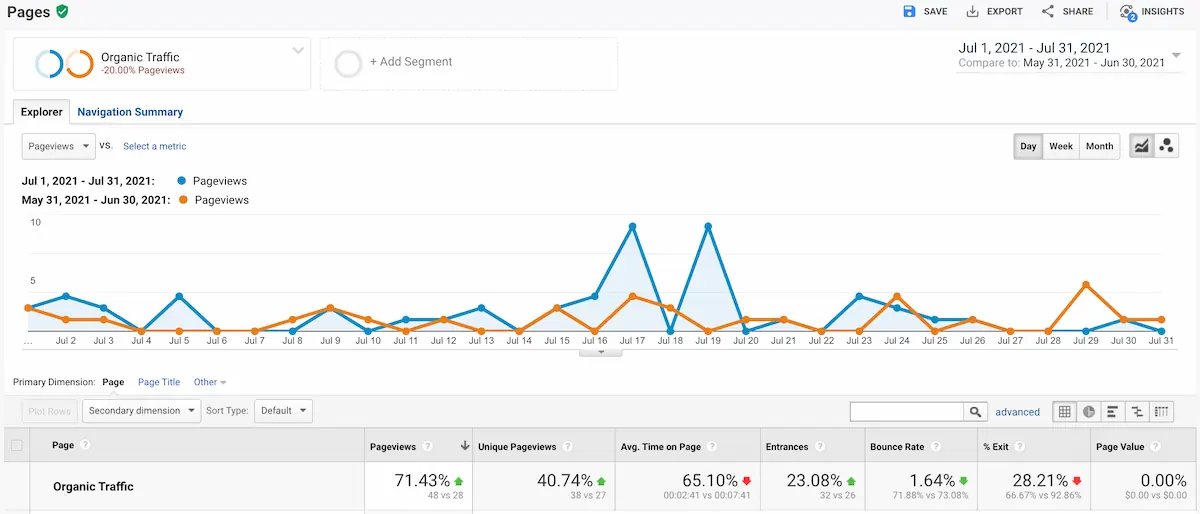 SERP Rankings
This niche seems like it should be a winner but ranking is slow, though there are a fair amount of other blogs in the space many appear to be more or less dead and haven't posted in a long time.
If this continues and gets closer to 20 in the top 100 then I may decide to push up to 50 posts and write more in another sub-niche to see if there is a space with more traffic than what I currently tested on.
Search Console
Lots of zero days, hoping to see those shrink over time.
Plan For Next Month
Sit on it and just watch it age over time.
Travel Niche Site
This site is just a fun place to write about mine and my wife's favorite travel spot, this makes it easy to add on content and gives me a way to hopefully convince her to join me as this income all goes towards her travel fund.
To date still not enough to convince her… the story continues!
Monthly Traffic
Solid growth continues even in the face of the pandemic that has hurt travel sites, since I have only added a post through this entire 2 month algo update I am beyond happy with 130% growth in the organic traffic to the site.
SERP Rankings
I am working on finding good keywords to continue building content as this niche has 10000s of keywords and possibilities for posts, there is virtually no limit to this site.
Search Console
No zero days is nice to see, the general trend line is growing over time which does line up with the SerpRobot data above as ranking increases hopefully the CTR just continues to improve!
Plan For Next Month
Part of the 100 post push by the end of the year, this could be a solid performed as it grows up into a more mature site!
Business Niche Site
I think this site could make the most income of any site I have, it will just take more work to figure out how to manage leads, info products, and really a focus on non-affiliate based income.
I am currently continuing to find and build content and relying on ad income while i learn new skills as to being able to sell leads as this can be highly lucrative it just is something that needs time to understand.
Monthly Traffic
While still not high in pageviews I honestly have no clue if this has a "seasonality" or if it is just sandbox time, going to continue publishing and building this site out as I think it has an amazing future in a fully untapped space!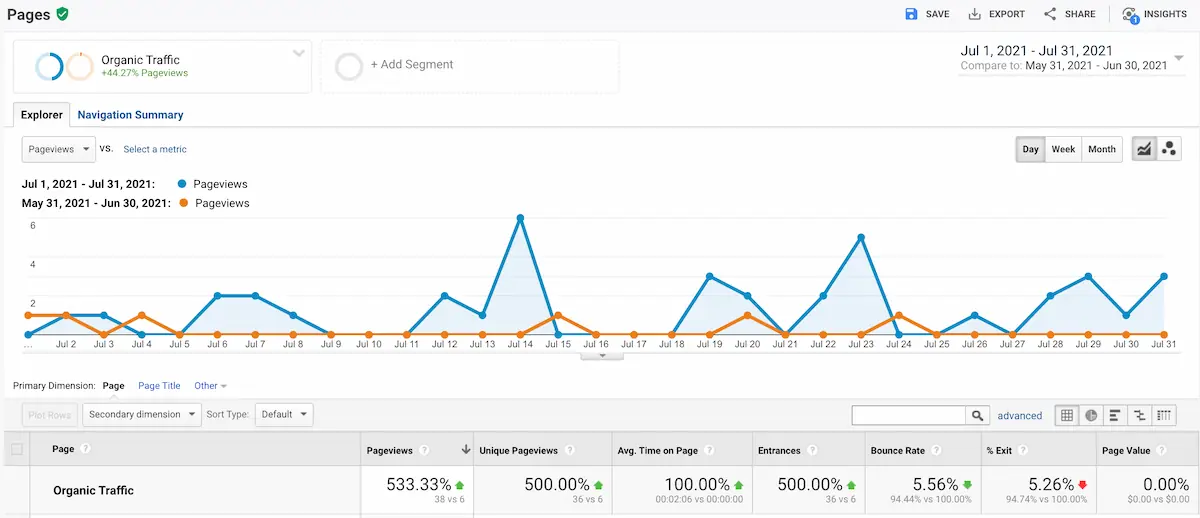 SERP Rankings
This site is going to be gangbusters I feel, it is basically fully untapped but will need to have a good concept for monetization as there is no real affiliate products so finding a lead process could be strong in making this a high income earner.
Search Console
Continuing a growth curve for a new site, moving more and more towards the results I was expecting, exciting prospects ahead on this one!
Plan For Next Month
Building this site but since so fresh the goal is instead 50 posts by the end of the year.
Popcorn Theme Niche Site
Since I was selling off a site I was happy to fill in the spot with another niche site that I can focus in on and get some more fun testing the Popcorn Theme out, I put in a bit of time helping clean up issues prior to their launch and have been happy with functionality and speeds out of the box, check it out!
Monthly Traffic
Month one, nothing to write home about…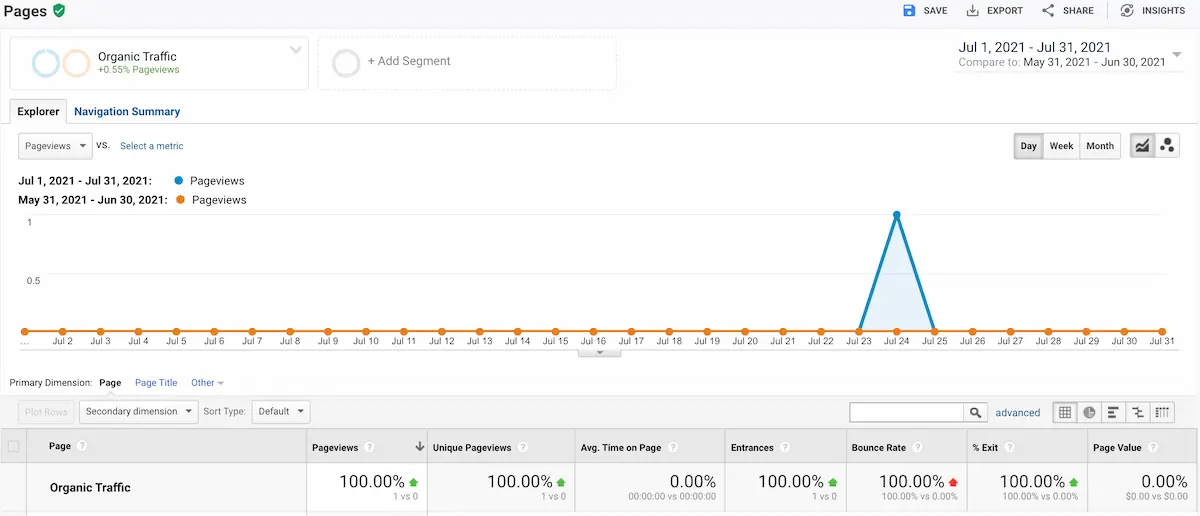 SERP Rankings
I am happy with less than 30 days in having anything in the top 100, let alone 50% of what I have published to date.
Search Console
Super new site, nothing amazing but continuing the push.
Plan For Next Month
Try to manage 4 posts per month at a minimum but less on the radar than other sites while this ages in content and I get a chance to see results, currently aiming to reach 30 posts overall.
Overall Lessons from July
Really my personal key here is that the sites I wanted to be my "big" sites are more anchors than truly beneficial to my affiliate marketing life, letting them be idle this month was refreshing and I felt more efficient on other sites content.
I don't think the bigger sites are dead by any stretch but they are not living up to the effort that has been put into them so far. This means I continue to build up the other sites and as the overall income level rises I can look into adding content to the other sites.
Did I Meet my July Goals?
I have ensured the P24 Case study has stayed on timeline allowing it to build and be as perfect a match as possible to their methodology. As it grows and ages I hope to see the new search analysis show true dividends including much higher search traffic and eventually income.
The YouTube growth was moving though not very fast but this month I took a 2 week vacation where I removed myself from YouTube and sites which meant I put out only the case study video which did directly impact any growth vectors.
What Are my Goals for August?
I continue with my simple goals which are to continue the same as last month, to keep building content on all my sites but with a focus on the new P24 case study site and the new YouTube site along with the push to 4000 watch hours on my White Hat Blogging YouTube channel.
After this the push is to grow the gardening 2, backyard, travel, and electronic sites to 100 posts which is about doubling each of their content over the next 5 months, this will set me up for some big growth that I am currently lacking due to trying to force a high competition niche site.
From there, here's a quick recap on some of the most valuable resources and things I recommend you check out. They've helped me in my journey and I think they'll be valuable in yours.
Josh Koop