White Hat Blogging is a participant in the Amazon Services LLC Associates Program, in addition, I am an independent Jasper Affiliate, not an employee. I receive referral payments from Jasper and possibly other affiliates.
July was another overall punch in the gut on some of the sites I thought were growing, which has officially ended the 100kx3 I wanted to create. Unfortunately, like many others, my site, with very little in the way of money posts, has been hit from almost 1k daily PVs to 100 daily PVs.
So the focus has shifted to building and placing my email list lead magnets on the sites. I view it as REQUIRED for my 10-year sites to ensure I can always reach my loyalist visitors.
This will help me in these algorithm update times and allow direct messaging for affiliate offers and info products.
Goals For Income Breakdown By 2023:
Ads: 50%
Affiliate: 40%
Info Product: 10%
I have been pushing to move all my sites to a minimum of 100 posts as I feel this is the best level to see what Google feels about your sites and gives them the best chance to grow towards the 50k sessions and to my bigger 100k pageviews mark and a push into event larger ad revenue.
With that being said, Welcome to my July 2022 Income Report!
July 2022 At a Glance
Overall it was painful. I lost all the supplementary keywords and later lost all the primary ones, but there are no penalties listed anywhere, and the content didn't lose a place. It was dumped into the memory hole.
I don't like to panic, as nothing in the content should have made the content die off this fast, but when you make 100s of changes, you have no clue what actually moved the needle, so I am slowly tweaking and looking for a pulse.
This has led to a huge impact on ad earnings and a small dent in affiliate earnings which is painful, but thankfully, with Prime Days happening this month, other sites like the P24 Case Study blew the top off in affiliate earnings which covered the hard drop.
Why Create Income Reports?
I can say that I don't necessarily "enjoy" making these as they take a solid chunk of the day to gather and align, but they are very nice when I look back historically and can see where I was along with my thoughts at that point.
I started doing these income reports to show month-on-month growth and to provide some motivation to show that websites can be a solid income over time but that it isn't a get-rich-quick scheme by any means.
Should you choose that you want to make websites for a living to earn the income, you need to be realistic that the work you do now will have a CHANCE to pay off in a year or more.
That being said, there is no other way to build an income that allows you the freedom with the time a blogger can achieve. This is my why, and it is the reason I work continually to improve my skills and my niche sites.
If you are an absolute beginner, I suggest joining the course from Income School called Project 24. It can help you when you have no clue to get solid footing for a really good cost.
If you aren't sold on them, you can look at another well-detailed affiliate marketing class from Affiliate Lab and Matt Diggity. If those don't fit, then there is an awesome option from MoneyLab.co, which I am a member of, as there is high value in the users within.
Overall Content Generation Breakdown
Building content against a vast array of sites can be intimidating. I write what I can, work with Jasper when it makes sense, and then outsource whatever I can afford to help keep the gas pedal pressed down hard.
Fitness – 1 post
Garden 1 – 0 posts
Garden 2 – 4 posts
Outdoor 1 – 0 post
Outdoor 3 – 5 posts (P24 Method Case Study and YouTube Series)
Outdoor 4 – 11 posts (Part of Emilia's Project Icarus)
Electronics 1 – 3 posts
Backyard – 0 posts
White Hat Blogging (This Site) – 1 post
Travel – 4 posts
Business – 0 posts
Finance – Retired
Backyard 2 – 21 Posts
Total Posts for the month: 50
Monthly Income Breakdown
| Income Source | Income Amount |
| --- | --- |
| Ads (Ezoic) | 765 |
| Ads (Ezoic Basic) | 244 |
| Amazon Affiliate | 1081 |
| Avantlink | 72 |
| ButcherBox | 70 |
| Other Niche Affiliate Programs | 267 |
| Blogging Affiliate Programs - BigScoots | 0 |
| Blogging Affiliate Programs - Jasper.ai | 97 |
| Blogging Affiliate Programs - Cloudways | 5 |
| Blogging Affiliate Programs - Project 24 | 0 |
| Blogging Affiliate Programs - SurferSEO | 0 |
| Blogging Affiliate Programs - Ezoic | 211 |
| Blogging Affiliate Programs - Fiverr | 0 |
| Blogging Affiliate Programs - Passion Posts | 43 |
| Blogging Affiliate Programs - Amalinks Pro | 0 |
| Blogging Affiliate Programs - Frase | 13 |
Monthly Expense Breakdown
| Expense Source | Monthly Cost |
| --- | --- |
| Hosting - Cloudways | 52 |
| Amalinks Pro | 14 |
| Link Whisper | 10 |
| Outsourced Content | 829 |
| Ezoic Premium | 0 |
| Canva - Images | 10 |
| Project 24 Subscription | 10 |
| Frase.io | 115 |
| Jasper.ai | 100 |
| Trellis | 15 |
My Niche Site Updates
Let's dive into the site stats and details to help lend so usefulness to an income report. I am always interested in adding more details should anyone be interested but this helps keep me motivated and growing.
The benefit to this is people get to see where I feel like I have gone right or totally wrong and hopefully help some people skip these from occurring to themselves.
Site – Fitness
On a hiatus for the foreseeable future, once I find an angle that makes sense, I will re-approach this again.
July Results In Images
Plan For Next Month
Nothing
---
Site – Garden 1
On a hiatus for the foreseeable future, there isn't as much traffic for the keywords I tested to be worth the deeper investment at this time.
July Results In Images
Plan For Next Month
Nothing
---
Site – Garden 2
This was hit in the update but has nearly no products, though I did have a call to action above the H2 with links to the best items for this niche. Assuming that caused the issue, I have removed them sitewide to see if it begins recovery.
I didn't lose all ranking, but I lost nearly every tertiary term, primary targeted terms I appear to have mostly kept but this tremendously cropped traffic numbers down.
July Results In Images
Plan For Next Month
Add four posts at a pace of one a week to idle this site and see if anything can spark it.
---
Site – Outdoor 1
I am considering moving this to a more wide-open domain, one of my older sites where I was locked into a razor focus, but this provides issues when you run out of topics or need to broaden where the traffic exists.
July Results In Images
Plan For Next Month
Looking into domains where I can scale outward but still maintain a brandable asset over time, once this is found, then I need to look at porting content over and maybe run through a cleaning cycle and update with Frase to clean.
---
Site – Outdoor 3
I love this topic and site. It can be written on a very large sub-niche and always brings in new people, which makes writing content that helps new people into the hobby keep it rolling for years while also allowing for more hyper-focused topics for advanced people.
July Results In Images
Plan For Next Month
Continuing to post 8-12+ posts to grow this content, building a dedicated email list with this site using grow.me from Mediavine, and focusing on making myself part of the world so that I can get natural links from working with others.
---
Site – Outdoor 4
This is the Project 24 case study built following their public timeline to showcase what 24 months of realistic work can create.
Many in this space are fake "bloggers" and are more of a "publisher" masquerading as a blogger. This can lead people to believe they must post 100s of posts a month. When they can't hit those same numbers, they quit and fail.
Currently, on the timeline, the post velocity is 5 posts a month through month 24, so the work is now to build the email list and focus on topics that further lock in the EAT and quality of the site overall.
July Results In Images
Plan For Next Month
Keep the five new posts going, and add one best xx for yy content to start growing the income potential of the existing informational content.
---
Site – Electronics 1
This site has been hit two months in a row. Nothing changed, no huge amount of buyers' content nor any big change to pages or URLs. The only huge thing could have been the theme switch to GP, but an 80% hit on theme change is pretty darned vicious if you ask me.
July Results In Images
Plan For Next Month
Idle the site, try to add 4 posts at one per week, and nurse it along, hoping to see life back in the next update, possibly as that seems like when the big changes in ranking really occur.
---
Site – Backyard
As with many of the older sites I have, they were very tightly niched, thinking it would help to grow in a direction I thought it needed to go over time.
However, this is becoming limiting, and due to the pandemic, it may have had a higher search than normal for the last 2 years, don't forget to use Google Trends, people!
While I will continue to move this to 150 posts, I may start to look at how to sell it off as I start a more wide-open Backyard site which can become a juggernaut with much more ease.
July Results In Images
Plan For Next Month
Continue to post at 4 posts a month until reaching 150 posts, and then look to sell off the site and allow someone else to continue on or merge into another site.
---
Site – WHB
Just writing income reports
July Results In Images
Plan For Next Month
Just writing income reports
---
Site – Travel
Working on this site is fun but it just gets lost in the wilderness of sites I own, I need to work and get this one to 100 posts so it can start to build me a better and more consistent income.
July Results In Images

Plan For Next Month
Start moving at least 4 posts per month to get this growing and become a solid income source.
---
Site – Business
This site is on hold where it sits, it doesn't get loads of pageviews and is fairly limited until I get a better grasp on lead generation, and so I need to learn more to explode the value of the traffic.
July Results In Images
Plan For Next Month
I will continue to add posts but slower at 1-2 a month to grow to the 100 posts mark and round out content coverage; this site will hinge on lead generation, though, to make income.
---
Site – Backyard 2
This site is what I wanted when I began working on the older one, but in those days, I failed to choose a wide enough domain to allow me to stretch the legs and grow out as far as possible, those big sites have room for thousands of posts and that's what this site has.
July Results In Images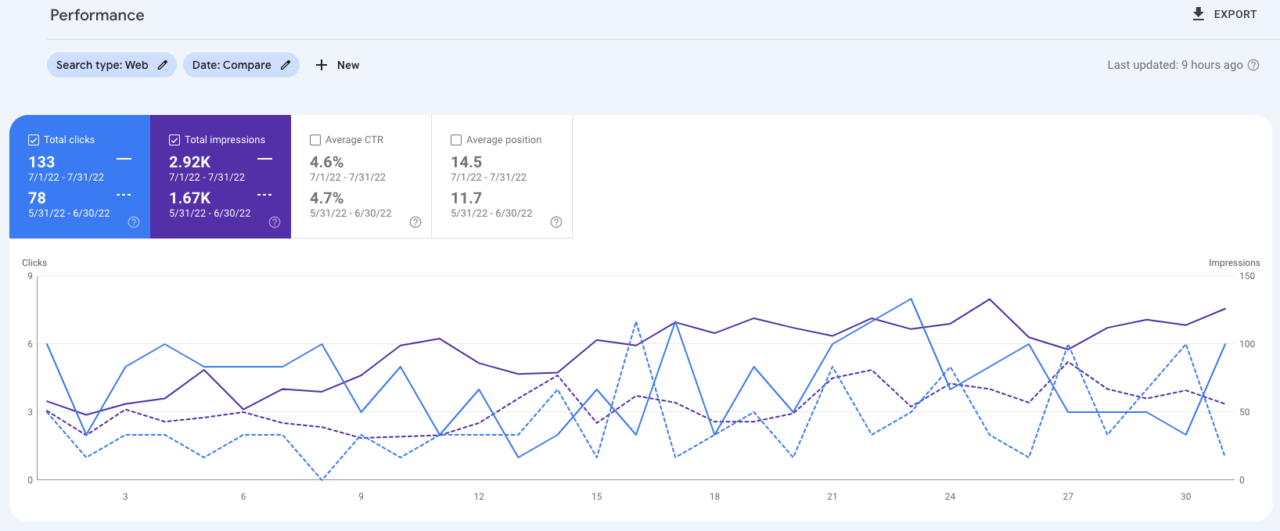 Plan For Next Month
Building content at a good pace, avoiding a focus on monetized pages, and really focused on informational content and getting the site rolling in traffic before spending more time on income sources.
---
Overall Lessons from July
I knew Google was fickle, but I followed a bland approach without link building and just generating content on the lowest competition I found, and yet it didn't matter. Google decided that this was enough to punish me anyway.
My focus is now on building lists and looking into link opportunities when they present themselves. I try to build a moat around my sites as people I won't name actively look to target and decimate new sites because they feel they are more important. It's easier to not have to research keywords on your own.
Did I Meet my July Goals?
Yes, as the email list building started, it is still a work in progress as it is a new skill set and building automation, and the powerful part is taking some time to think through and assemble in the best manner.
What Are my Goals for August?
This month I need to continue to generate content. Still, the focus is on building the email lists out and building the foundations to continue connecting with my visitors regardless of Google wanting to help.
I am working on a few targeted best xx for yy pages for Black Friday and to gather more affiliate sales, not trying to make my whole site this but to provide visitors the chance to make a purchase through me has yielded this strong performing month.
My Recommended Tools For Results
From there, here's a quick recap on some of the most valuable resources and things I recommend you check out. They've helped me in my journey, and I think they'll be valuable in yours.
Jasper.AI – This is your personal writing assistant, offering you more information and helping prompt you in writing to make magical and informative content.
Frase.io – I use this to build out my outlines for posts and then, once done writing, check how my content aligns to the Top10 and Top20 SERP results to ensure I cover all the key terms other sites do.
Project 24 – A welcome change from the competition, focused on all with a purely content-first approach, hands-down an awesome course for building a niche site or an online business that focuses on content.
Ezoic – Once you've got your website and some content, think about these guys. They're doing some amazing things – and have helped me earn several thousand dollars (in ad revenue) that I'd not have earned otherwise.
LinkWhisper – Honestly, without this plugin, managing links within my content would be incredibly difficult; honestly one of the easiest things to re-up each year, and I highly suggest it.
Cloudways – As hosting goes choosing Cloudways with a VULTR HF server is the fastest you will ever see a backend run, no more waiting for the new post to load it is as close to desktop speeds as you can probably find.
Josh Koop