White Hat Blogging is a participant in the Amazon Services LLC Associates Program, in addition, I am an independent Jasper Affiliate, not an employee. I receive referral payments from Jasper and possibly other affiliates.
While many people may think that drones and drone photography is all that drone niches offer this may be the perfect place to establish yourself and grow.
Racing drones are far more a custom build where you have specialized equipment and gear, these aren't no DJI or Autel!
This is a well knowledged niche though and it isn't one where you can just grasp the concept. This would be one where you need to sink some serious time and money to possibly build one and become a part of their world.
Why Choose the Racing Drone Niche?
When people look at drones they will almost always focus on the more hobby side or photography side and how they are used for movies or YouTube.
Many people aren't even aware of the drone racing side which has been building itself up.
Racing drones because of this are a much easier niche to plausibly rank for and build a website around. Along with a new and innovative way to look at helping new builders and racers put together the best rigs possible!
Seasonality and Trends
Overall the niche is an indoor racing sport that is sometimes done outside in the good weather, this really helps you as it means there won't be as big a lull as many niches have during their off peak season.
Last 12 Months
Overall there is a nice flat line overall across the last twelve months which means it is staying relevant even through these pandemic issues we have all been facing.
There is a couple large spikes which I would spend some time investigating as maybe these are events and where your site may get surges.
Last Five Years
Over the last 5 years there is a general downward trajectory but the racing leagues are really starting to grow out now and with the mainstreaming of 3d printing you now have the ability to print much of your own parts.
I wouldn't view this as dying out by any nature but keeping your eye on the leagues and overall the racing as a sport. This is one niche that for now may be really easy to jump and get a foothold in before it explodes which is exactly where you want to start.
Exploding Topic Details
When you dig into the topic a little more you will see that Exploding Topics has this listed as Peaked, while this isn't always where you want a topic to be it isn't a full stop.
As you can see from the average line through the middle the overall trajectory is still upwards. Peaked means that the search in the time frame specified has been before current time.
As you can see below the "technical" current peak occurred around 2017, I feel this is due to the difficulty in acquiring parts and not due to disinterest.
Online Presence and Community
Overall there is a large volume of options available on social media platforms and YouTube, none of these are exceptional challengers to you.
The one exception maybe UAV Coach, they are big in the drone space overall but have been more oriented towards recreational and Part 107 licenses.
Forums
There is a good volume of forums which look to be fairly consistent with posting, they will definitely help you build a relationship within the space.
Use them to find some more topics outside of the typical Google autosuggests based on what it looks like they search for.
Quora
Quora has an active community around racing for drones which has about 3000 users. This is definitely a smaller and more tight knit group than many other topics on Quora, take some time and build your site well and the links here should get you some foot traffic.
Facebook
There are definitely available groups for you to join in the Facebook area which range from thousands to over millions for the Drone Racing League page.
I would suggest jumping into the Racing League to see what's on the professional side that could possibly be news and build some validity behind your site.
I would always suggest utilizing FB groups to do content similar to the below since this is the unique content that gets you social shares, make sure to share it within these groups also!
I asked xxxxx people from a leading Facebook xxxxxxx Group about xxx and this is what they told me…
YouTube
Digging in shows the highest views on a bonsai tree video at nearly 1 million views. The average views on videos with Racing Drones in the title come in at with overall decent view counts on page one.
There is definitely search volume you can use to drive people to your site and information products while building a channel.
This is one where a video may explain a lot about the fun that can be had and the amount of expensive gear that is part of this exciting hobby: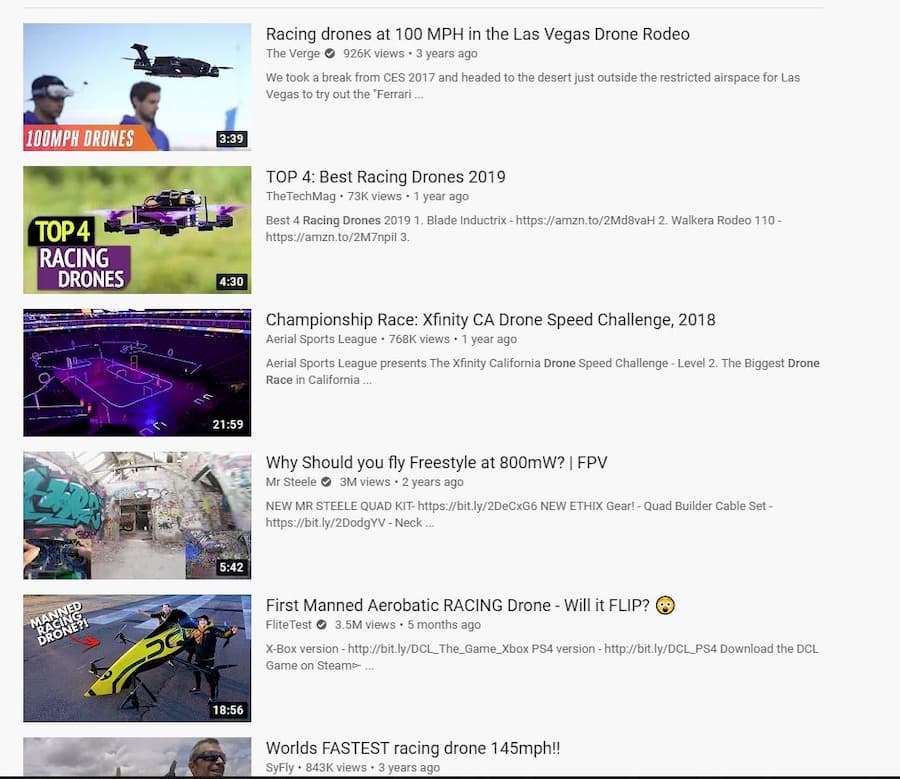 Online Media For Posts
There is loads of images available online for drones from places like UnSplash and you could then look to more stock related sites similar to Dreamstime or DepositPhotos.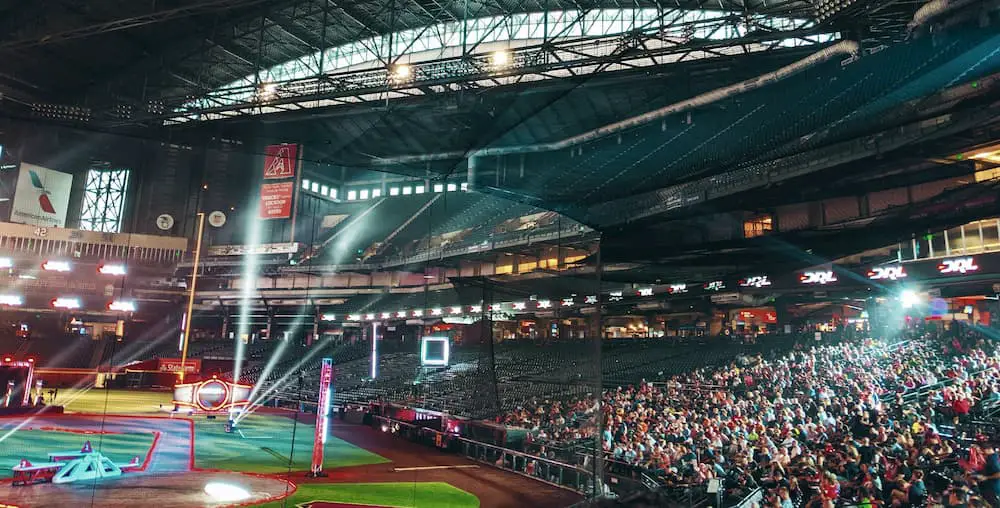 Racing Drone Keywords
Taking time to look a little bit into search analysis and finding keywords on the topic of drone racing yields cracks similar to almost any topic as long as you can drill in a bit and really look at your top SERP results.
I would suggest a focus on informational keywords and then possibly a heavy lean into being able to fabricate your own parts by using a 3d printer.
The 3d printer can bring in a high value product that will be exceedingly useful to people who crash and burn often in their custom builds.
Information Intent Keywords
Information based content is what helps to drive organic traffic to your site from Google. These are things that can sometimes be as simple as "which way should the batteries be inserted" to more complex items like "what to do when propellers break".
Don't forget that when natural in your posts link to valuable products that fit a need or maybe your info product. Additionally if you can point them towards your buyer guides or top ten lists it can help you get some more sales.
what is drone racing
what is fpv drone racing
what is drl drone racing
how to get into drone racing
how does drone racing work (Pillar Work Here)
how much does drone racing cost
how fast is drone racing
how much does drone racing cost
Buyer Intent Keywords
There are quite a few buyer intent keywords on best style options. If you open up and do a best ten list followed up with each as a full review this could lead you to some quality traffic and Amazon purchases.
The competition on many of these for the top 1-2 places is going to be top 10 at a minimum and looking for probably in the way of 4-6000 words. Take your time and craft a large and comprehensive sales post and you can win big.
best drone racing goggles
best drone racing frame
best drone racing motors
best drone racing for beginners
best drone racing kit
Search Analysis
When looking around through Google and autocomplete alone on the topic of "drone racing" exposes many easy to rank results for articles at around 1000 words.
I would start the site today looking to cover many of these informational posts answering questions these visitors would want to have answered.
Then I would jump into building out some of the best of review pages like what I listed above using high-quality product comparison tables like what is offered with Amalinks Pro or AAWP.
Monetization Options
Drone racing itself as a niche looks to be pretty good for having multiple options at income streams. There is a load of products, key informational products offers, and as always advertisements will always yield a good return with an strong visitorship.
The three that stand out for this niche right away are going to be around the higher ticket products like the 3d printer ($350-500), and a large focus on information products and ad revenue.
Affiliate Products
There are a lot of possible products for the Racing Drone niche, though most are singularly not that expensive an Amazon link and related products could help you out.
While not a huge cash cow from a part side I would make sure to you link appropriately and I would ensure you position some of the higher value products like a 3d printer are prominent in your sidebar.
FPV Goggles
Drone Parts and Accesories
3D Printers
Info Products
Racing drones have a lot of options available to build out information products, starting with beginners then possibly moving forward into more advanced products.
I would feel starting with a $9.95-$14.95 info product with links inside built to bring them back to more in-depth information can help build your site up.
As you build information products for more advanced topics you can increase the cost, never sell yourself short, and always split test multiple prices to find the price point to maximize your return and sales.
Many of these information products will be a good extra income generator as they are pure profit and the products may each be smaller in relative value.
How to Build Your First Racing Drone
Racing Drones for Beginners
How to Print Your Own Drone Parts
Ads
Looking at technology and sport niches they seem to have a value of $5-10 EPMV from the basic research as its not necessarily a specific group.
For most in advertising you can get into Ezoic early to build up ad income. After that I would head to Monumetric and Mediavine as your traffic levels increase.
I pretty much always suggest skipping Adsense as it makes pennies compared to the other ad networks above. Instead focus on building content and getting the traffic levels to your site up.
Quality Domains Available
There are many options available for you to build a racing based website for drones. I listed out a few I found in only a few minutes of searching below to help you start thinking of names:
dronestly.com
dronesquadren.com
UniqueRacingDrones.com
RacingDroneZone.com
fpvdronecenter.com
Final Thoughts on Racing Drones
If you are interested in a unique micro niche then racing drones may be a perfect choice for a extended build and grow period, I would expect this may be a 3-5 year project building as the sport grows.
From the information and available keywords along with the cracks presented above this could be a sneaky niche to jump into.
Please feel free to share this out if this was useful and informative, also feel free to contact me to drop things you would appreciate research on and I would love to cover them.
If you don't want to leave it publicly then head over to the contact page and drop me a line. Please share this out to others who you think may find this useful and I'll be back with another one next week!
Josh Koop