White Hat Blogging is a participant in the Amazon Services LLC Associates Program, in addition, I am an independent Jasper Affiliate, not an employee. I receive referral payments from Jasper and possibly other affiliates.
Looking into pets is an interesting niche, mostly overloaded with sites about dogs and cats. What we are going to do is expand and look at ferrets as pets and whether this niche could be a jewel in the rough for someone.
Why Choose A Pet Niche In Ferrets?
Many people have had ferrets for pets but they can be challenging to take care of as there is far less available information available online. Since this topic has a lack of easily available information, it is a large niche opening for someone to take advantage of.
Seasonality and Trends
The niche appears to be pretty stable and this is a big plus when you are looking for a more evergreen and passive website. There is probably not a bunch of new information or details that would require consistent updates.
Last 12 Months
Overall for the year the niche, the traffic appears to be very stable and not hitting any seasonality. This means in creating a site you could very well have income year around without any of the issues with many passive niches.
Last Five Years
Over the last five years, you see the trend as stable with a very slow growth overall. This typically will signify the growth will still continue gradually year over year, allowing you to write content today which will still be viable five years from now.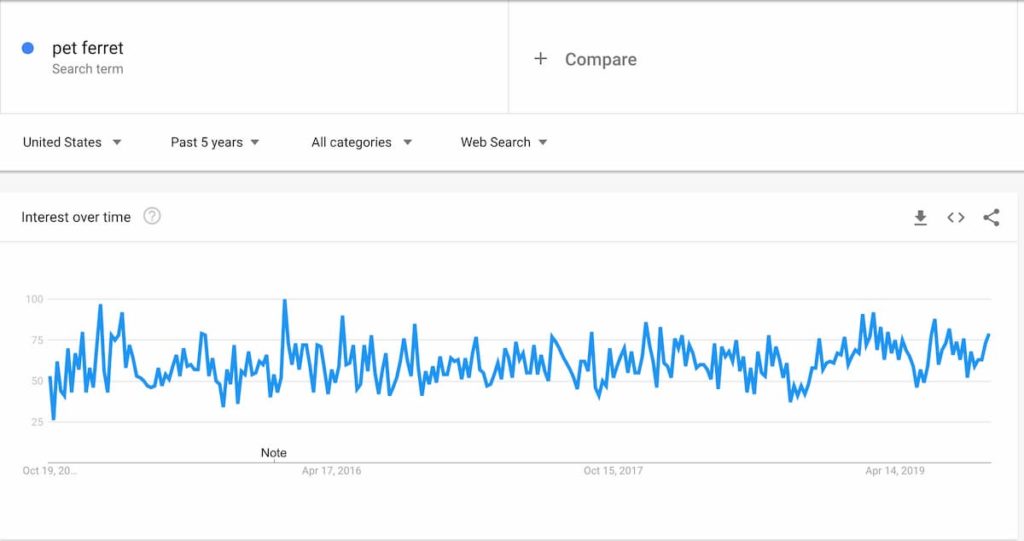 Online Presence and Community
While you look for content ideas you should look to join some of the various online groups and communities who have the pulse of the important topics, including Reddit. I would recommend joining and starting to talk and discuss within these communities, start and become an information provider and gain a reputation for solid help and details.
After you become a consistent fixture within these groups you can start to use them to start building content by asking them questions and taking their feedback into your article creation and tell them you'll share it once you are done writing it with that community.
This will help to start the process of building additional reach for you and your website outside of organic results from Google search which can take months.
Forums
While searching online I found a few forums online around ferrets and pet ferrets which can help get you started in learning more about ferrets as pets. Also this will provide you more about what, how and what information appears the most useful to the crowd.
Quora
As always Quora is a magnet for pet owner questions and answers which you can take and use to build better information which will easily outrank their search results if you put in the time and effort. Start reading and researching through all the information listed in the Quora site topic and see what posts you can search for in Google to see what is a prime subject.
Facebook
Facebook looks to be full of groups discussing ferrets as pets, these would be ideal to join and start to learn more about ferrets if you don't own one. They will be a pulse on the current information about ferrets and would be good place to ask questions and start an "opinion" post to use for an article.
I asked xxxxx people from a leading Facebook Ferret Group about xxx for ferrets and this is what they told me…
These could be super valuable as you then could repost it back onto that same Facebook group which would more than likely then be shared out to other Facebook groups getting you a traffic burst!
YouTube
VidIQ shows the highest views on a ferret video at nearly 3.5 million views. The average views on videos with a ferret in the title come in at 350k. Average subscriber count on ferret videos is over 500k, there is definitely search volume you can use to drive people to your site and information products while building a channel.
Online Media For Posts
Doing a rough check on Canva, Stencil and other sites like Unsplash it appears there is a decent amount of pictures available for images.
Buyer Keywords
Looking into the buyer keywords there are a lot of gaps in quality individual product reviews. The top 10 style listicles aren't anything super and if you were to come in and drop a 10 item 3500 word lists (a 350-word pro, con, description, would hit this target with ease) you would rank more than likely with ease in many of the listicle categories.
Buyer Intent Keywords
There are quite a few buyer intent keywords on best style options. If you open up and do a best ten list followed up with each as a full review this could lead you to some quality traffic and Amazon purchases.
best ferret cages
best ferret harnesses
best toys for ferrets
Search Analysis
Performing an overall search analysis on the topic of ferrets as pets yields many easy to rank results for articles around 1250 words. I would start the site today looking to cover many of these informational posts answering questions these visitors would want to have answered.
Then I would jump into building out some review pages using high-quality product comparison tables like what is offered with Amalinks Pro. As most reviews only feature the item by itself, many times with less than 650-750 words.
Prevue Hendryx Black Feisty Ferret Cage Review ($118 Product) and don't forget liners and more accompanying equipment that could help add onto your sales totals.
what do pet ferrets need
do ferrets need a cage
Do ferrets like to be petted?
Do ferrets recognize their owners?
can pet ferrets live outside
Monetization Options
Pet niches are always good for having multiple possibilities in income stream options. They are always full of products, informational product options, and advertisements will always yield a good return with an appropriate amount of views.
The three that stand out for this niche right away are going to be around the higher ticket products ($50-100), and information products.
Affiliate Products
There are a lot of possible products for the ferret niche, some even can range up to the $100 mark. While not a huge cash cow I would make sure to you link appropriately and I would ensure you position some of the higher value products in your sidebar.
Info Products
This feels like it would have at least some solid pet options available which you could sell for $9.99 or higher with relative ease. Many of these will be a good extra income generator as the products overall are smaller in relative value.
Ads
Pet niches seem to have a value of $5-15 EPMV from the research online, tending to go higher value with Ezoic and Mediavine as your traffic levels increase. I would suggest skipping Adsense and working on content that ranks higher until you can start with Ezoic.
Quality Domains Available
FerretTime.com
FerretOverhaul.com
FerretReboot.com
FerretBoss.com
FerretInsider.com
Bottom Line on Pet Ferrets as a Niche
If you love pet niches then this one is ripe for a quick build where you can gain ground very fast and effectively. From the available keywords and the cracks presented I hope that someone decides this is worth their time and gets to researching and posting.
Please comment below if this was useful and informative, also feel free to drop things you would appreciate research on and I would love to cover them.
If you don't want to leave it publicly then head over to the contact page and drop me a line. Please share this out to others who you think may find this useful and I'll be back with another one next week!
Josh Koop